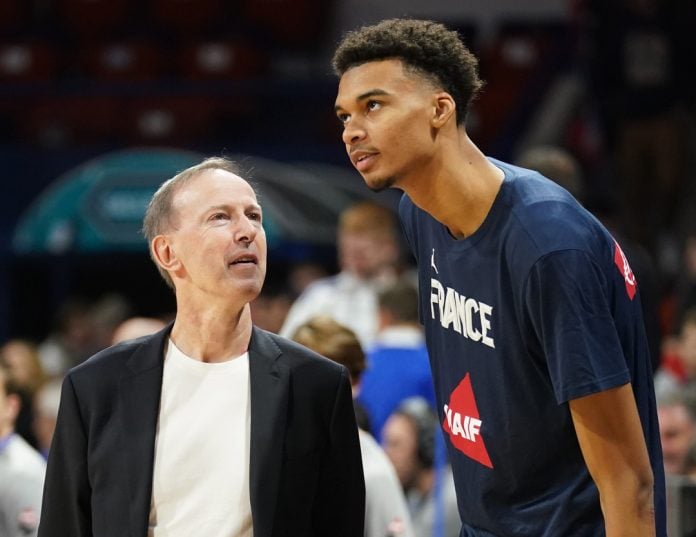 Vincent Collet couldn't be more delighted as presumptive top overall pick Victor Wembanyama is set to land in the good hands of the San Antonio Spurs for the upcoming 2023 NBA Draft.
In an interview with Yann Ohnona of L'Equipe (h/t BasketNews), Collet admitted that Wembanyama going to the Spurs is what he aspired of given the franchise's golden development pedigree for foreign players and its great relationship with international teams.
"It was the choice I was hoping for," Collet said, who coaches Wembanyama in the Metropolitans 92 and the French national basketball squad. "San Antonio is a franchise that has built its legend with foreign players. We saw that in France with the prism of Tony Parker but there was also Manu Ginobili and others. I think Gregg Popovich can be the best mentor for him.
"Victor is only 19 years old. It's an age when you progress a lot and you progress more or less depending on how you are supported and coached," he continued. "This is also good news for the French national team. San Antonio respects international basketball and knows that the players do not waste their time in national teams."
San Antonio's splendid and respectable project as a basketball club came in when both Argentina's Manu Ginobili and France's Tony Parker were able to develop from project players into perennial stars. Alongside Tim Duncan, the duo went on to help the franchise to establish a basketball dynasty highlighted by five NBA championships for nearly two decades.
Besides Parker and Ginobili, San Antonio also served as the home of other notable foreign talents like Boris Diaw (France), Fabricio Oberto (Argentina), Nando De Colo (France), Pau Gasol (Spain), Boban Marjanovic (Serbia), Rasho Nesterovic (Slovenia) and Tiago Splitter (Brazil).
For Collet, what makes Wembanyama an exceptional prospect goes beyond his physical traits and tendencies, as the 19-year-old wunderkind also boasts that extreme desire to elevate himself.
"It's not common to take care of a gifted individual. He is passionate, he's interested in everything. Much like Kobe Bryant, who he is a big fan of, he always wants to understand why he does things, thus, a different approach is needed," Collet said.
"There are obvious things in his qualities like measurements, motor skills, etc. Then there is his project, his own will, his independency. You have to give him freedom while trying to influence his choices so that he progresses with accuracy."
Winning the franchise-altering sweepstakes this year, the Spurs can't wait for June 22 to finally select Wembanyama as the cornerstone of the new silver and black era.