Oscar De La Hoya came out firing tonight, hitting back at Ryan Garcia for him still "crying" and complaining about him not being present during his post-fight press conference after his defeat against Gervonta Davis two months ago.
Promoter De La Hoya took to social media to lecture Ryan (23-1, 19 KOs) about him not accepting the reality that his defeat was his making and he needs to admit that it was he that agreed to the "insane rehydration clause" for the Tank fight. (image: @twitter.com/ESPNRingside)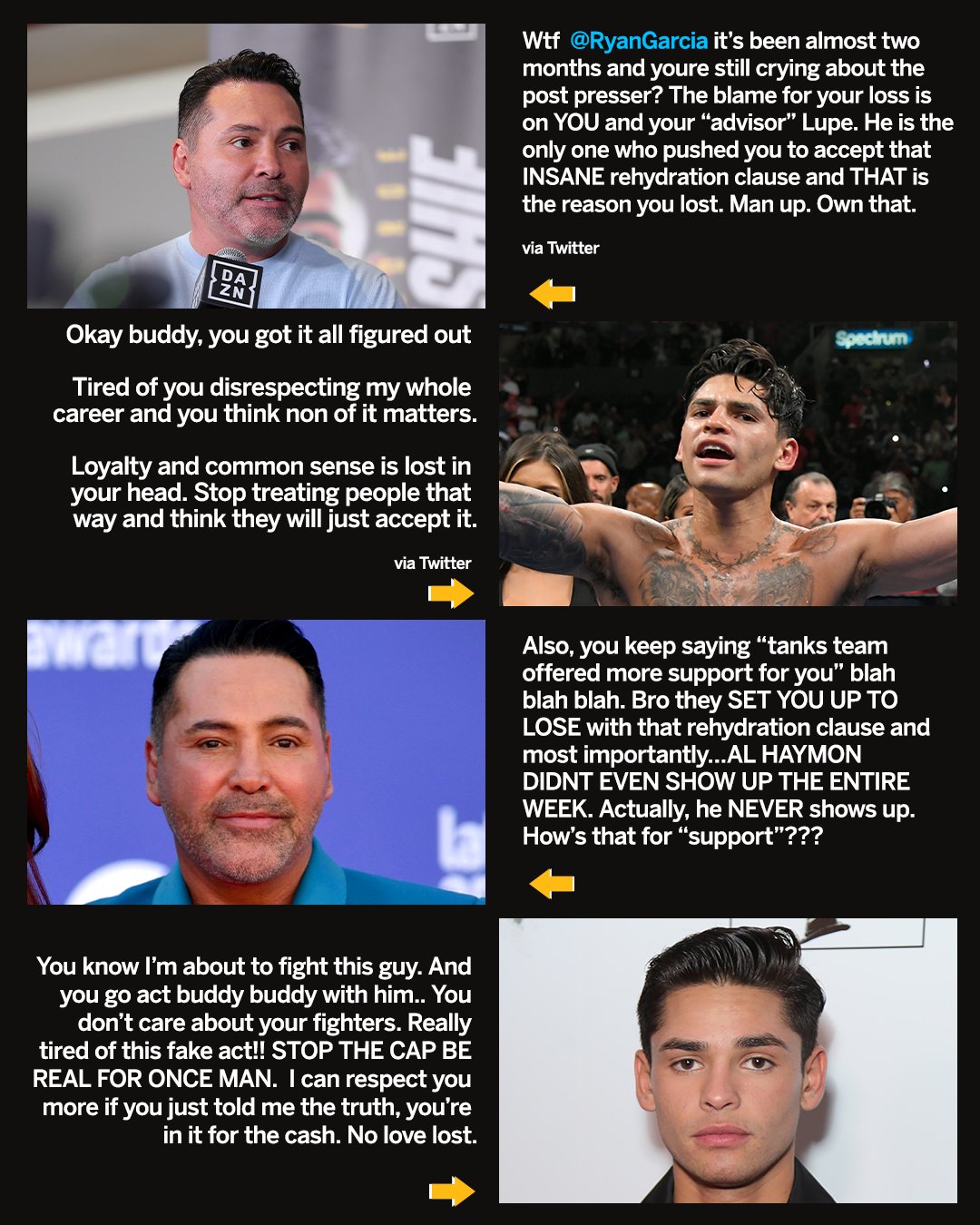 During an interview on Thursday,  Ryan claimed that Tank Davis'  team gave him more "support" than his own team. However, De La Hoya hit Ryan with some facts, reminding him that Tank Davis' team had "set you up to lose" with the rehydration clause and that Al Haymon of PBC wasn't at the post-fight press conference either.
Oscar let Ryan know that Tank Davis' training team and his management at PBC aren't his friends, and he somehow twisted his brain into thinking with his warped perception of what was going on. Team Tank drained & spied on Ryan and he thinks they're his friends. Talk about gullibility.
De La Hoya could have mentioned that Tank's team had a mole in his camp, spying on him and giving updates to them on what he was doing daily in training. How Ryan can't see that as underhanded and as low as they get is hard to understand. Is he really that naive?
Oscar didn't mention the 136-lb catchweight, which also played a big factor in draining Ryan to weaken him for the fight. The coup de grace was the late fight date secondary weigh-in for the dehydration clause.
You can argue that Ryan Garcia betrayed De La Hoya by taking a knee and quitting in the seventh round.  De La Hoya had put a lot of time and effort to help inflated Ryan's resume by matching him against beatable guys to turn him into a start.
Ryan Garcia realized his entire team betrayed him after his loss to Gervonta Davis 😳
pic.twitter.com/czWsuEA0cc

— Daily Loud (@DailyLoud) June 1, 2023
Rather than letting De La Hoya continue to build his career, Ryan overruled him and insisted on fighting Tank Davis, a fighter that he wasn't ready to fight.
Ryan ignored De La Hoya's advice about taking a tune-up against Mercito Gesta. Lastly, Ryan agreed to the rehydration clause that Tank Davis' team wanted, which De La Hoya didn't want.