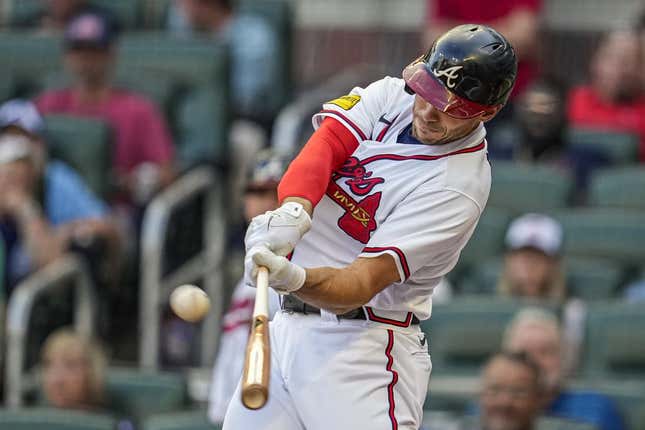 Matt Olson hit two home runs, including one in the first inning to ignite a seven-run rally, and Spencer Strider struck out nine to help the host Atlanta Braves rout the Philadelphia Phillies 11-4 on Sunday and earn a split of their four-game series
Honor the real Pat Tillman this Memorial Day
The early uprising included back-to-back home runs — a two-run shot by Olson and a solo homer from Austin Riley. It was the fourth time the Braves have hit consecutive homers this season. Olson's home run was measured at 464 feet to right field, the second-longest of his career, and Riley's 10th homer of the season carried 412 feet over the center field wall
The Braves followed with two-run singles from Ozzie Albies and Ronald Acuna Jr., who led off the inning with a hit
The Braves matched their season high for runs scored in an inning, equaling the seven they scored in the second inning against Miami on May 3
Strider (5-2) pitched six innings and allowed two runs on two hits and one walk. It was the ninth time in 11 starts he's had at least nine strikeouts.
Strider, the major league leader in strikeouts, notched his 100th in 61 innings to become the fastest to reach 100 strikeouts since 1893. Jacob deGrom reached 100 in 61 2/3 innings in 2021.
Philadelphia's Dylan Covey (0-1) retired only two batters in his first start since 2019 and was tagged for seven runs (five earned) on six hits — two of them homers.
Philadelphia scored in the third inning when Brandon Marsh hit a two-run homer, his fifth. They added Kyle Schwarber's 441-foot two-run homer, his 13th, in the seventh off reliever Collin McHugh.
The Braves scored three runs in the fifth. Acuna drove in a run with a triple and scored on Olson's 16th homer, which traveled 445 feet. Olson was 3-for-5 with four RBIs
Atlanta had 20 hits and the top four batters in the order went 12-for-20, with Acuna going 4-for-5 with three RBIs. Every starter had at least one hit.
–Field Level Media