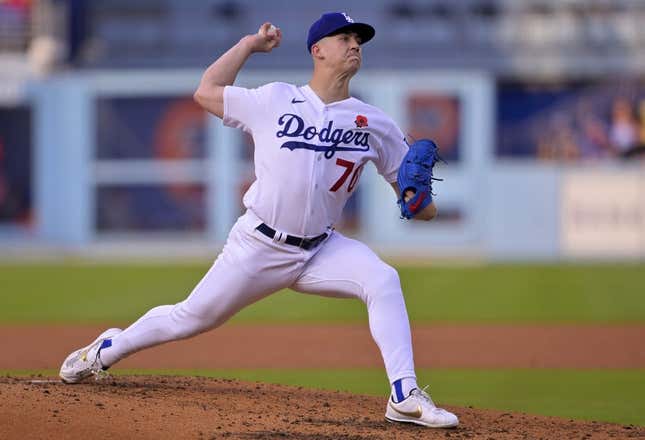 Freddie Freeman extended his hitting streak to 18 games, J.D. Martinez hit a three-run home run and the Los Angeles Dodgers came to life for a 6-1 victory over the visiting Washington Nationals on Monday
Honor the real Pat Tillman this Memorial Day
Hard-throwing right-hander Bobby Miller won for the second time in two career starts as Los Angeles came out on top for the 12th time in its past 13 home games. Miller (2-0) produced six innings of one-run ball.
CJ Abrams had an RBI single for the Nationals, who lost a series opener for the fifth time in their past six tries. Washington right-hander Trevor Williams held the Dodger scoreless through for four innings before he gave up six unearned runs in the fifth
Lane Thomas had a single for the Nationals to extend his hitting streak to 14 games and his on-base streak to 25 games
Abrams gave Washington a 1-0 lead in the second inning on an RBI single, although Corey Dickerson was thrown out at home by Dodgers right fielder Jason Heyward while trying to score a second run on the play
An fielding error by Abrams opened the door for the Dodgers' six-run fifth, as the shortstop was unable to come up with an easy double-play grounder by Miguel Vargas. James Outman then plated Los Angeles' first run on a sacrifice fly, scoring Heyward, who had drawn a leadoff walk
After a two-out single from Mookie Betts, Freeman hit a two-run double to right field to put the Dodgers up for good at 3-1. Will Smith walked and Martinez hit a home run to right field, his 11th, for a 6-1 lead
Freeman's 18-game streak matches the third longest of his career, set in 2020 during his MVP season with the Atlanta Braves. He had a 20-game streak in 2011 and a 30-game run in 2016.
Bobby Miller allowed four hits and one walk while striking out four. He had thrown five innings and allowed one run while winning his debut against the Atlanta Braves on May 23.
Victor Gonzalez, Justin Bruihl and Shelby Miller each pitched a scoreless inning of relief for Los Angeles.
Williams (2-3) gave up his six unearned runs for the Nationals on six hits and three walks over five innings. He fanned three
–Field Level Media