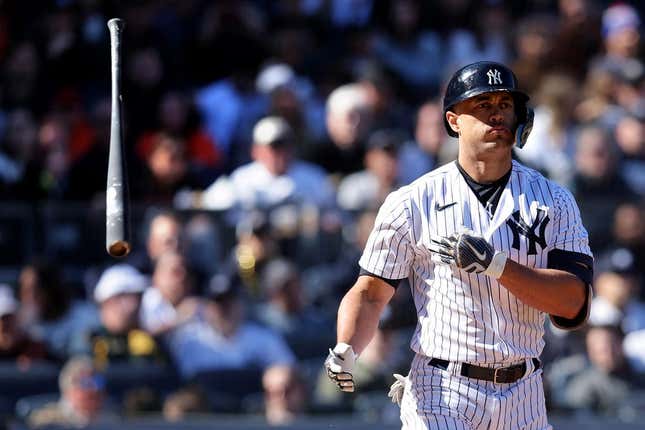 The New York Yankees provided Double-A Somerset with a load of talent on Tuesday as a trio of players reported to the club for rehab assignments, including All-Star outfielder Giancarlo Stanton
'Soccer fandom is full of gatekeepers' says Ted Lasso actor Brendan Hunt
In addition to Stanton, who is in the final stages of recovery from a hamstring injury, the club also sent third baseman Josh Donaldson (hamstring) and right-hander Tommy Kahnle (biceps) to the Eastern League club in New Jersey.
Stanton, 33, has played in just 13 games for the Yankees this season, the last of which was April 15. He had four early-season home runs with 11 RBIs. Stanton hit a combined 66 home runs with 175 RBIs over the previous two seasons for the Yankees
In 14 career seasons for the Florida/Miami Marlins (2010-17) and Yankees (2018-23), Stanton has 382 home runs and 982 RBIs in 1,447 career games and was the National League MVP in 2017. He has made five All-Star teams, including last season with New York
Donaldson, 37, has played in just five games this season, going 2-for-16 with a solo homer. In 13 career seasons with six different clubs, Donaldson is a career .264 hitter with 267 home runs and 791 RBIs in 1,338 games. He was the American League MVP in 2015 with the Toronto Blue Jays.
Kahnle, 33, is in his third run in the Yankees organization after he was drafted by the club in the fifth round in 2010. He ultimately made his major league debut with the Colorado Rockies in 2014, returned to the Yankees in 2017 and left again after pitching just one game from 2020-21 following Tommy John surgery. He signed a two-year deal with New York in December
Over eight career major league seasons, Kahnle is 9-9 with a 3.78 ERA over 298 relief appearances for the Rockies (2014-15), Chicago White Sox (2016-17), Yankees and Los Angeles Dodgers (2022)
–Field Level Media