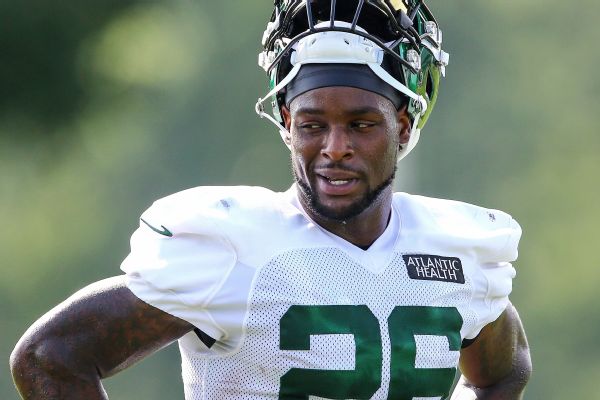 Free agent running back Le'Veon Bell admitted that he smoked marijuana before NFL games.
Bell, who last played in the NFL in 2021, opened up about the topic on the "Steel Here" podcast, which focuses on the Pittsburgh Steelers. Bell played for Pittsburgh from 2013 to 2017, then sat out the 2018 season amid a contractual battle with the team.
"Looking back on this, that's what I did," Bell said. "When I was playing football, I smoked, bro. Even before the games, I'd smoke and I'd go out there and run for 150, two [touchdowns]."
When Bell finally left the Steelers, he played for the New York Jets in 2019 and two games in 2020. The Jets' coach at the time was Adam Gase, who came under criticism from Bell on the podcast.
"Bro, we get to New York, and that's when you instantly find out that head coaches make a huge difference," Bell said. "As soon as I get to New York I find that out like the first week. … Bro, the team wasn't that great, don't get me wrong, but I feel like if Coach [Mike] Tomlin [of the Steelers] was coaching that team, we win nine games at least. It's to the point where [ex-Jets quarterback] Sam Darnold don't even know like the actual line's protections because he's so confused about our offense because the coach is confusing him."
Bell, 31, added that Gase was "terrible" at calling plays. The Jets went 7-9 in 2019, with Bell producing 789 yards and three touchdowns on 245 carries.
New York released Bell on Oct. 14, 2020, after he had 19 carries for 74 yards that year. He signed with the Chiefs three days later and added 254 yards and two touchdowns on 63 carries in nine games with Kansas City. Bell appeared in one playoff game during the Chiefs' run to the Super Bowl, rushing twice for 6 yards.
In 2021, Bell played five games for the Baltimore Ravens and three for the Tampa Bay Buccaneers, totaling 39 carries for 101 yards and two scores.
During his Steelers tenure, Bell was a three-time Pro Bowl selection and two-time All-Pro. In 96 career NFL games (81 starts), Bell ran 1,595 times for 6,554 yards and 42 touchdowns. He was also suspended twice for violating the NFL's substance abuse policy while with the Steelers.
After leaving the Jets, Bell had short stints with the Kansas City Chiefs in 2020, and Baltimore Ravens and Tampa Bay Buccaneers in 2021.
Despite not playing last season and dabbling in a professional boxing career, Bell said he hasn't yet officially retired from playing football. He told the podcast he'd like to retire with the Steelers but wants a chance to get a few carries in the preseason "so I can show y'all" he can still play.
Information from Reuters and the Associated Press contributed to this report.