Erik ten Hag on Man United vs Man City FA Cup final: "It's not about stopping City" – Man United News And Transfer News

Erik ten Hag has spoken with excitement and enthusiasm ahead of Manchester United's clash against Manchester City in the FA Cup final.
This year's FA Cup will be decided by the two major Manchester sides for the first time in the competition's history, leading organisers to already engrave '2023: MANCHESTER *blank*' onto the trophy.
Ten Hag's side has seen success at Wembley during the Dutchman's debut season at the helm of United, lifting the League Cup trophy at the end of February after defeating Newcastle 2-0.
The FA Cup is acknowledged as the oldest national football competition, in turn making it widely watched and revered across the globe.
Speaking to Henry Winters of The Times, Ten Hag recognised the achievement of having already played at Wembley and recollected memories from his childhood in the Netherlands watching the famous English competition.
"It was a fantastic experience. I feel very lucky to go to Wembley. Wembley! I said to the players already of what I experienced as a child. Nowadays all the games are broadcast," the United manager said.
"I remember growing up you maybe get 20 minutes' highlights late at night, maybe the semi-finals or when your country way involved then you get the full game broadcast. But the FA Cup final was always fully broadcast in the Netherlands. That's the reputation of the FA Cup. It's something special.
"I remember Manchester United against Brighton [in 1983], Arnold Muhren played! I've seen many FA Cup finals. The tradition … I'm really looking forward to it."
Mühren was one of the first non-British and non-Irish footballers to play in England and enjoyed a three-year spell at Old Trafford in the 80s. He was transferred back to Ajax, for whom he had played prior to joining United. Mühren also has a strong tie with Ten Hag's boyhood club, Twente, having won the Netherlands' national cup (the KNVB Cup) as part of their squad in 1977.
After completing his nostalgia trip, Winter pressed Ten Hag on the more serious issue of squashing City's hopes of matching United's legendary 1999 Treble-winning campaign.
Asked about whether he is aware of how important it is for fans, the Dutchman retorted back to Winter in his usual brilliant, laconic style:
"Yes, I know. But it's not about stopping Manchester City, it's about us winning the FA Cup. We want to build our own legacy and era."
United have the chance to continue building a new era under Ten Hag's stewardship on 3rd June at 15:00 BST.
 
---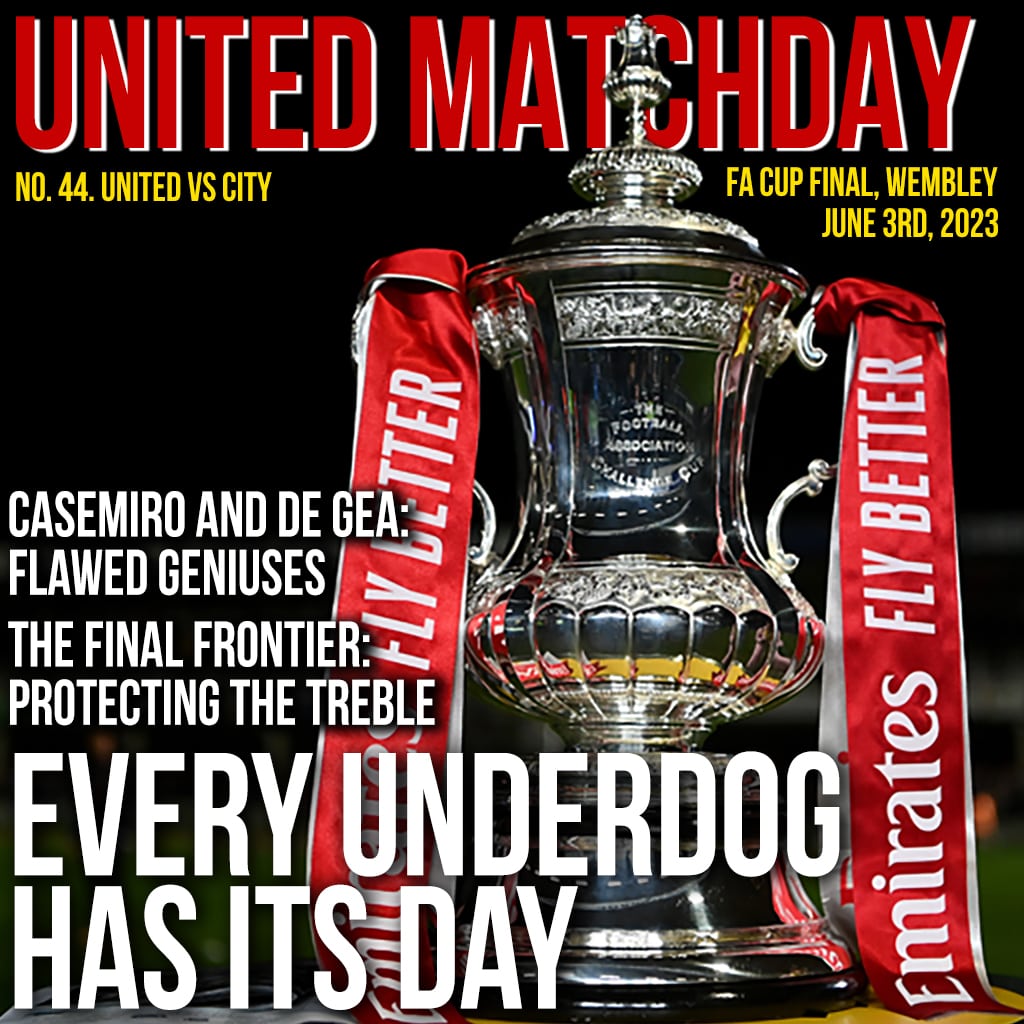 Imagine an FA Cup Final programme, but 100% online!
With just a couple of clicks you could be reading the FA Cup final special edition of United Matchday Magazine, right here on your device. All the latest news, meet the teams, tactical preview, opinion, debate, transfer news, quiz and much more! Get yours now for just £3/$3.75 and
be in the know about everything in red!