"I do it on purpose": Erik ten Hag reveals how he motivates Man United stars – Man United News And Transfer News
Manchester United have enjoyed a good campaign in Erik ten Hag's first term in charge and, ahead of the Saturday's FA Cup final, the Dutchman has opened up on his style of management.
In interview with The Telegraph, the Red Devils boss revealed that his first task in the top job at Old Trafford was bringing standards back up to scratch, having been well aware of a lack of squad harmony and club culture.
"We were aware of it," he said. "I informed myself. After Sir Alex left, the culture changed over the years. One of the biggest qualities Sir Alex had was to have high standards. I wanted to bring it back in, so that everyone in this organisation lives the highest standards and the football players too.
"I talk to Sir Alex regularly. He gives his opinion and I'm happy to have that opinion. With all his experiences and his intelligence it's really valuable to talk with him. From Sir Alex, I learn a lot because he's such a legend. It gives me inspiration, how to manage."
Ten Hag's willingness to use Sir Alex Ferguson as a resource while retaining his own authority and unique style is a refreshing change of pace from some of United's previous managers. But like Ferguson, Ten Hag simply cannot stand defeat.
"If you want to be that winner, you have to feel a loss a long time in your stomach. You can't lose. If you lose, you question everything and I start with myself and look in the mirror."
His determination to have his team perform to the best of its ability is clear to see in the detail-orientated approach to management, even if it comes with a touch of insomnia.
"In general, especially after night games, I sleep badly. The game has to settle down. And I'm already thinking of the next day, the next game, how do you prepare, and what to feed back to the group and what not. I have to set the right tone."
While preparation is a big part of setting that tone, Ten Hag's usually calm demeanour is also of great importance, with the former Ajax boss harking back to some advice that he tries to live by on the touchline.
"I think that I'm always in control. One of my communication managers once told me, 'Everyone in the stadium can be in the red zone, but never the manager.' "
For the Dutch boss, it is all about maintaining control of his own emotions and using them to push the right buttons with his players on the pitch.
"When it looks like my emotions go up, I do it on purpose… to take influence over what's on the pitch."
It is clear that Erik ten Hag is fully aware that winning a football match often comes down to little other than fine margins. His incredibly meticulous approach has seen Manchester United eke out the additional percentages needed to get the result more often than not this season.
---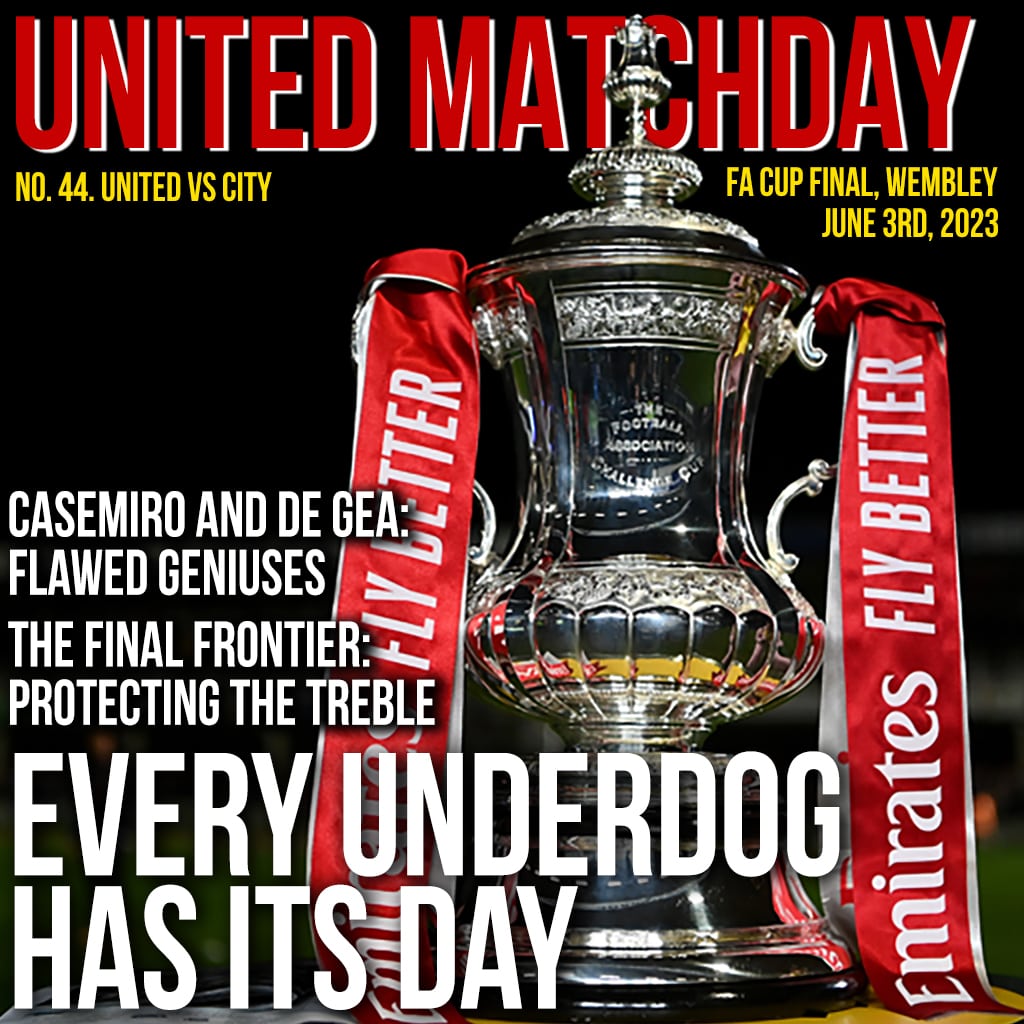 Imagine an FA Cup Final programme, but 100% online!
With just a couple of clicks you could be reading the FA Cup final special edition of United Matchday Magazine, right here on your device. All the latest news, meet the teams, tactical preview, opinion, debate, transfer news, quiz and much more! Get yours now for just £3/$3.75 and
be in the know about everything in red!