As the sun was setting on Court Simonne-Mathieu, the beautiful stadium court in the botanical garden area of Roland-Garros, Bianca Andreescu staged a spectacular comeback, from a set and a break down, to beat former world No. 1 and 18th seed Victoria Azarenka, 2-6, 6-3, 6-4, in the first round of the French Open.
In her post-match press conference, Andreescu, the former world No. 4 and 2019 US Open champion, said: "At first, I think I started off very, very well. Then she just started taking control right from the start, and I felt like I started to become a little bit passive.
"I told myself if I even want to make this a close match, I have to change something. I told myself, go for it. I started serving better. I started returning better. Yeah, it definitely felt good.
"My fighting spirit is back, so that feels nice."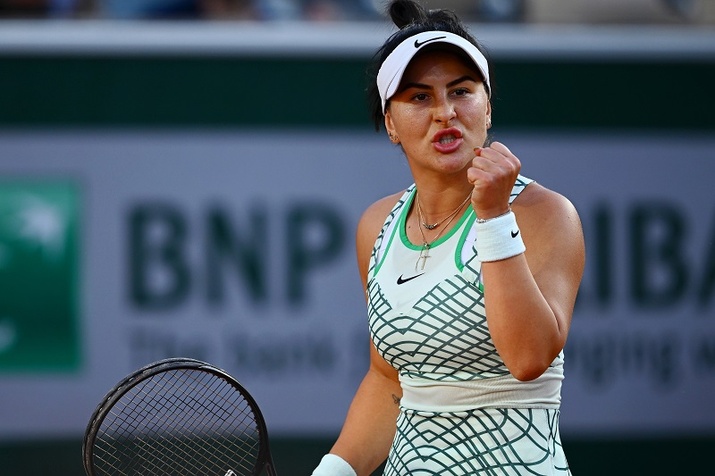 CLIVE MASON/GETTY IMAGES
The Canadian, who has been recovering from an ankle injury she suffered at the Miami Open, said: "The last few weeks haven't been easy for me, just like recovering from my injury and all that stuff. I'm still not 100%. I still get pain here and there. I just have to push through it and not thinking that it's bad pain. That's definitely helped.
"Yeah, just putting in the hours on the court, especially during matches, is always good.
"I had a three-setter again," she said, laughing, "so I'll say this counts as two matches."
It was an electric atmosphere throughout the two-and-a-half-hour battle, but especially at the end, as it took Andreescu five match points to get the victory.
When asked what she was thinking during these tense moments, she said: "Why the F can't I close this out right now? Does God really want me to go through another 7-6'er? I don't think I have a good 7-6 record this year, so I was hoping not to go there.
"But I was just trying to stay as calm as possible because I was really hyped up at that time because I was one point away from winning the match. So I really had to calm myself down because I felt like I was too excited on the three that I lost. Obviously, she played well.
"But I was praying to put my first serve in the court, and it did work, so I think that was the key."
Next up for Andreescu, in the second round, is American Emma Navarro.