Bublik subdues Shelton 6-4, 1-6, 6-2 to reach third round in Rome
At the final Masters 1000 event on clay at the Foro Italico in Rome, it was righty vs lefty in their first tour level meeting. Ben Shelton, the young American with the booming lefty serve was playing in Rome for the first time in his burgeoning career. Currently at a career high rank of #35, his best result this season was the quarters at the Australian Open.
Alexander Bublik two inches taller at 6'5 and five years older at twenty-five, possesses the type of game that confounds opponents. Not afraid to go big on second serve or throw in one underhanded, the Kazakh is dangerous and invariably unpredictable. Having reached a career high rank of #30 last season on the heels of his first and only tour title to date in Montpellier, he is currently ranked #49 with his best performance this season the semis in Marseille (l. Hurkacz).
Shelton served first and with two aces and a backhand overhead smash, held at love. Bublik made 4/6 first serves and with a monster forehand inside-in and huge serve out wide, held to 30 to level.
Shelton the 28th seed, donated his first double fault but with his third ace, held for 2-1 while Bublik opened the fourth with a double fault, gifted another and faced deuce and break point before holding for 2-2.
Shelton missed 4/6 first serves, faced break point, and dumped serve following two consecutive winners from Bublik. The Kazakh luxuriating in the crowd support, consolidated the break for 4-2 with a crisp crosscourt forehand volley winner.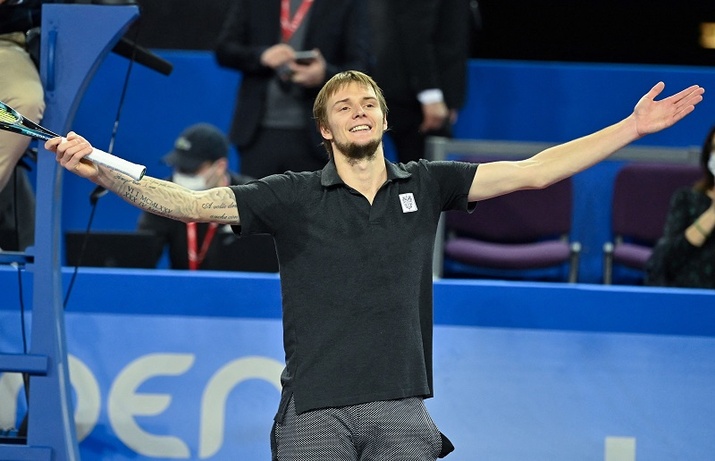 Credit: AFP via Getty Images
Shelton regained his focus with a love a hold and Bublik serving with new balls, returned the favor with a love hold for 5-3. Shelton serving to stay in the set struck two consecutive aces for a third consecutive love hold and Bublik kept the steak alive, clinching the set 6-4 with a love hold.
Shelton served first in the second and with four winners including an ace on game point, held to 30 for 1-0. Bublik maintained his aggressive court position but after missing 5/8 first serves let a 40-15 lead evaporate, faced break point, and dropped serve when he overcooked a lob.
Shelton struck three winners and consolidated the break for 3-0 while Bublik got on the board with an underhand serve and two winners. The American opened the fifth with an overhead smash and with his seventh ace and a forehand down the line, held easily to 15 for 4-1.
Bublik hit his first ace but with a mishit backhand and his third double fault, dumped serve. Shelton serving for the set with new balls, struck two consecutive forehand winners and with his eighth ace, secured the set at love.
Bublik served first in the decider and with two consecutive aces, held to 15 for 1-0 while Shelton hit his 9th ace and held to 15 to level. Bublik made 4/4 first serves and held easily to 15 for 2-1. Shelton opened the fourth with his 10th ace, but it would be an arduous hold. He missed 6/18 first serves including a double fault and faced six deuce and five break points yet held when his opponent netted a forehand.
Bublik did not allow those missed opportunities to deter him as he held at love for 3-2 with two consecutive aces. Shelton opened the 6th with an incredible inside-out forehand but with three unforced errors including another double fault, dropped serve.
Bublik pumped yet poised, struck two consecutive winners and with a third, held to 15 for 5-2. Shelton faced triple match point and though he saved two, succumbed on the third when Bublik pummeled a forehand down the line.
It was a fast-paced, entertaining, and exceedingly close match. Bublik hit two less winners (27/29) and won just three more points (75/72). He displayed power and versatility but what impressed most was his defense. He finished with five aces, three double faults and won 82% of first and 48% of second serve points.  While he was unable to make inroads on Shelton's first serve, he won 48% of second serve return points and converted 3/10 break points.
In the third round he will face two-time grand slam finalist and world #4 Casper Ruud. Despite winning a title on the dirt this spring in Estoril, the Swede has struggled, and Bublik should look to capitalize on his opponent's lack of confidence.