Medvedev conquers Tsitsipas 7-5, 7-5 to reach first Rome final
For Daniil Medvedev it was the ultimate test in the penultimate round; eliminate the two-time Monte Carlo champion and French Open finalist, Stefanos Tsitsipas. Medvedev, a self-proclaimed hardcourt specialist who abhorred clay, had not won a match in three attempts at the Foro Italico. The former world #1 with four titles this season was a win away from contesting the final in last Masters 1000 event on clay just eight days from the start of Roland Garros.
While many call the twenty-seven-year-old the magician with more than a few tricks up his sleeve, his performance in Rome has confounded many, including himself. Prior to this event, his best performance to date on the dirt was the semis in Monte Carlo in 2019 where he dispatched Tsitsipas and Novak Djokovic in three.
Tsitsipas reached a career high rank of #3 and is currently #5. Still in search of his first title this season, the twenty-four-year-old from Greece is exceedingly comfortable on clay having won the Rolex Monte Carlo Masters twice (2021, 2022). In addition to two additional titles on the dirt, he was a finalist in Paris in 2021, losing in five to Djokovic. He was hoping for another crack at the crown in Rome having lost to the Serb in straights last season.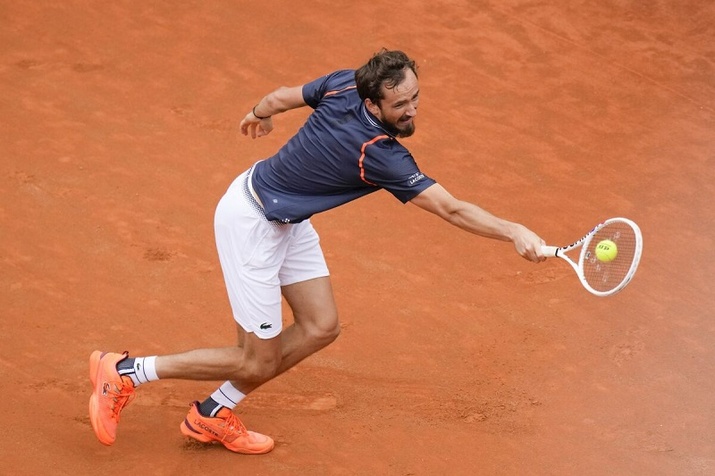 (AP Photo/Alessandra Tarantino)
Although Medvedev led the head-to-head 7-4, Tsitsipas won three of the last four. This was their third meeting on the dirt having split the previous two.
Tsitsipas served first and following three unforced errors including a double fault and a huge forehand return, dumped serve. Medvedev returned the favor with a double fault but held to 30 to consolidate the break.
Tsitsipas struck three winners – a backhand volley, crosscourt forehand and inside-out forehand drop shot and held at love to get on the board. Medvedev opened the fourth with a brilliant inside-in backhand and with two additional winners, held to 30 for 3-1. Tsitsipas opened the fifth with a crisp crosscourt forehand volley winner and with an ace up the tee, held at love for 2-3.
The world #3 struck a stunning lob and held easily to 15 for 4-2 while Tsitsipas returned the favor holding to 15 for 3-4 with three winners including another ace. Medvedev serving with new balls, donated two consecutive backhand errors and dropped serve following two consecutive forehand winners from Tsitsipas.
As it began to rain harder, the players were forced to leave the court and after 2 ¾ hours they resumed play. Tsitsipas missed 4/8 first serves and faced 0-30 then deuce but held for 5-4 with his third ace. After another extended rain delay, Medvedev opened with a double fault yet held to 30 to level.
Tsitsipas led 40-0 but after four unforced errors including a double fault dropped serve. Medvedev opened with a blistering backhand down the line and with a fantastic forehand drop set, reached triple set point and converted when his opponent netted the return.
Tsitsipas served first in the second and opened with a double fault and though he hit his fourth ace, faced break point, and dropped serve when Medvedev pummeled a backhand return down the line.
The Russian maintained his aggressive play with a winner off each side and with a monster serve up the tee, held to 15 to consolidate the break. Tsitsipas opened the third with two consecutive forehand winners and with another, held at love for 1-2 while Medvedev opened with a wicked backhand drop set and held at love for 3-1.
The Greek serving with new balls, missed 3/6 first serves and donated two unforced errors yet held to 30 extracting a backhand error with three consecutive formidable forehands. Although the world #3 continued to crush the ball off both wings, he gifted three unforced errors and dumped serve.
Tsitsipas opened the seventh with a well-placed serve and overhead smash and consolidated the break for 4-3 when his opponent's backhand sailed long. Medvedev playing at an increasingly rapid pace, regrouped admirably and held to 15 to level.
Tsitsipas led 40-15 but faced deuce and held for 5-4 with another outstanding overhead smash. Medvedev serving to stay in the set, missed three consecutive first serves but with his second ace and a colossal one down the middle, held to 15 to level.
Tsitsipas opened the eleventh with another overhead smash, but it was to no avail; he faced double break point and dropped serve when Medvedev ripped a forehand down the line off a net cord.
The Russian opened with a forehand crosscourt swing volley winner and with an exquisite forehand drop volley and a well-placed drop shot, conquered his opponent to reach the final in Rome for the first time in his storied career.
Medvedev weathered the storm and a worthy opponent. He finished with two aces, two double faults and won 83% of first and 46% of second serve points. He was quite efficient on return, winning 29% of first and 52% of second serve return points. He converted 4/4 break points, hit nineteen winners, and won seven more points than his opponent.
A the Foro Italico, a first-time champion will be crowned. Medvedev will battle Holger Rune on the dirt for the second time this season. The twenty-year-old Danish phenom has rapidly risen up the rankings and is currently at a career high of #7.
After losing in three tight sets to Andrey Rublev in the final of Monte Carlo, he successfully defended his title in Munich. Although Medvedev lost their initial meeting in straights in the quarters in Monte Carlo, he should glean confidence from his steady and stellar progression on the clay.