World Tennis Conference: the tennis champion's mind, spirit, body & development structure
The third consecutive World Tennis Conference organized by Fernando Segal, President of the Segal Institute, in conjunction with GPTCA, certified by the ATP and powered by Coachtube, took place virtually March 30 – April 2, 2023.
The Segal Institute is committed to the global expansion of tennis development through enhanced coaching by utilizing technology and designing innovations that foster a vigorous growth environment. Segal, an advocate of life-long learning, established the conference for high-performance coaches and other industry partners.
Its main objective is to connect coaches worldwide with elite coaches, tennis legends, data experts and scientists. Their goal in facilitating this connection is the dissemination of knowledge and experience to assist coaches, especially young ones, in their career development. The Segal Institute, in service of this mission, recently launched the NextGen Coaches project for those thirty and under to support their evolution. For more information, please contact info@segalinstitute.org.  
Once registered, coaches, players, organizers, and tennis devotees can repeatedly watch 64 main presentations on their computer, tablet, or cellphone for the next 45 days. To register and for information on the WTC Membership Club Package, please visit www. worldtennisconference. com.
Magnus Norman: Confidence is everything. The Swede reached #2 in singles and for 8 years coached former world #3 and 3-time grand slam champion Stan Wawrinka. He is the technical director of the Good to Great Academy in Sweden. Champions find a way to win when not at their best. Coaches in service of the player must be supportive, build trust and educate them so they can self-coach. Champions are realistic, objective, and assess their goals, obstacles, and career. A champion's mentality turns on self-belief and it is critical to continuously set new goals to keep them motivated. Coaches must always be in tune with their player's needs and ready to make adjustments.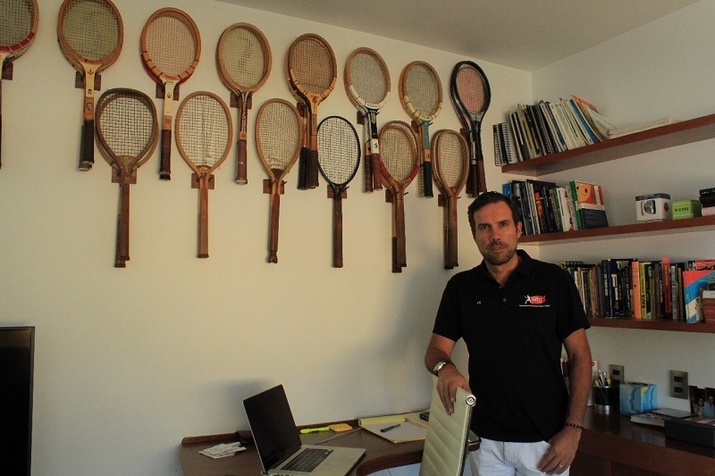 Dominik Hrbaty: How to make mental transition and what to learn in different age stages. A former top fifteen player and notable international coach and leader. Coaches must adjust approach based on the age of the player and only provide requisite information for optimal comprehension. Teach them strokes, self-correction and how to expose their opponent's weaknesses. Patience, especially when coaching young players, is paramount. Self-discipline should be trained beginning at age fourteen. Self-belief and competitiveness can be learned and strengthened and should commence at age five. Do not look back; always look to the next point and the future.
Brian Gottfried: History of Tennis: What part will you play? Everyone contributes to the history of tennis. Former world #3 in singles and #1 in doubles. As a USTA high-performance coach, he's worked with Michael Chang, Kathy Rinaldi, and Jimmy Arias. Coach your player for long-term success not short-term results. Why history? It teaches us to not repeat mistakes. The community recently lost many great coaches including one of his, Nick Bollettieri. Who will take their place? Do you have the passion and vision to make the game better?
Diego Moyano: Shot selection, decision making process and performance. Coach of Coco Gauff and USTA lead national coach. Transformational coaching: the key to world-class shot and decision-making. Players must problem solve, be accountable and enjoy the journey – not just the results. Shot selection from smart repetition. Sequence of shot has 7 steps: 3 mental actions, 3 physical and 1 technical performance. Shot selection + problem solving = execution excellence. Work daily on weaknesses, optimize strengths, take risks and be more efficient. Play with purpose! Coaches – don't give orders; share opinions!
Franco Davin: Game, Set, Math: principles applied to evaluate the player. Davin from Argentina, reached #30 in singles with 3 titles. Coached Juan Martin del Potro, Fabio Fognini and Veronika Kudermotova. He developed the Game, Set, Math or GSM platform in conjunction with Macelo Albamonte over the past two decades. Hidden and valuable information is elucidated through math which allows coaches to objectify observations. The graphic provided by the platform is similar to GPS; it shows where the player is and where they are headed. Coaches can visualize via simulation the stipulated goal and how it will be achieved by converting data into meaningful, actionable information. For more information, please visit www. gamesetmath. net.
Dr. Lindsey Ayala & Dr. Anna Peabler: Mom-love: Pregnancy and return to play postpartum in tennis athletes. Dr. Ayala, physical therapist, and trainer with 8 years on the WTA tour and Dr. Peabler, physical therapist with 6 years on tour, assert elite athletes that become pregnant have not been adequately studied. To date, seven grand slam titles have been won by moms. There are 4 moms in the top 200 in singles and 5 moms in the top 100 in doubles. Thirty is the average mom age on tour. While exercise during pregnancy is great for mom and baby, 60% do not out of fear; must educate players how they can modify activity during pregnancy. They are available to players throughout their journey from pregnancy to birth to post-partum to returning to competition.
Jordi Vilaro: How to develop specific drills to improve timing and efficiency. Founded BTT Tennis Academy. Repetition = consistency. Timing – must be calm at impact. Ball imparts stress which in turn affects shot selection. Connect movement with shot, take ball on the rise and take time away from your opponent. Aim for consistency; do not always go for winners. Hit 8 balls in to develop consistency, then 10, 12 and 20. The last two steps are the most critical; use a medicine ball to work on timing and speed of ball, rotation, and weight transfer.  
Jeff Coetzee: The difference between men's and women's doubles. Former ATP player now coaching doubles. Movement at the net separates the sexes. The women are not properly positioned and consequently gaps remain which their opponents expose. Doubles is a game of mistakes – not winners! WTA – 80% of returns go crosscourt; hit more up the line and maintain an aggressive mindset. Men get closer to the net and often use the I formation; poaching is all about timing! High-performance tennis is available in doubles; find a good partner, communicate, and make a good living. Start playing doubles while a junior to develop the volley and serve and see dramatic improvements in singles.   
Shane Liyanage: Optimal shot sequences by court position. Founder of Data Drive Sports Analytics. Data analysis must be simplified so it can be utilized by coaches and players. In research for Tennis Australia, examined rallies under 10 shots. A shot chain is a critical shot sequence dictated by court position and opponent. Illuminated 7 male player types or clusters and 6 female player types. For example, cluster 1 for men: big serve + 1 = John Isner and Reilly Opelka. Employed sequential market basket analysis: the probability a point is won with a given shot chain. Coaches must make their player comfortable and capable of breaking down the opponent's successful shot chains.  
Gabe Jaramillo: Principles to develop talent. Developed eleven #1 players including Andre Agassi and Monica Seles and founded the Altitude Academy in Florida. Player must always be adjusting and evolving to maximize potential. Comfort zone – no challenge. Learning zone – demands are made to perform above their abilities. Panic zone – complete an impossible task which leads to frustration and problem solving. Stroke production via repetition and progression. Students are filmed and the feedback integrated. If they are not hitting, they are not learning! Information should enrich practices, not  impede them.
Dr. Becky Ahlgren-Bedics WTA Mental Health Team – Mental health and performance for the tennis athlete: A team approach. Team utilizes a mental health continuum to assess players mental health. Coaches must know when their athlete requires professional help. In a healthy state, player copes well, works productively and contributes to the community. A dysfunction or disorder that negatively impacts a player's life and performance necessitates professional intervention. Coaches must manage the environment: does the player feel safe and free to express themselves? Team is on site embedded with the players as well as virtually 365 days.
Dr. Ruth Anderson: The coach's mind: Psychological strategies for the coach to facilitate peak performance. Sports psychologist and director of player well-being at the ATP tour. Coaches facilitate the optimal psychological state of players. Performance improves when coach and athlete work together and share responsibility. Performance was enhanced when the coach stayed cool under pressure, made fair and decisive decisions and engendered trust and credibility. Players must have high self-awareness, be adaptive under pressure and self-regulate – tools at their disposal to shift their psychological state and tolerate anxiety for peak performance. Coaches must trust their skills, preparation and be cognizant of how their responses to stressors affect their players.  
Dr. Joani Essenmacher: Thoracic spine mobility. Director of PT, athletic trainer, and primary care doctor on the Hologic WTA tour. Rotation and back-bends through the thoracic spine are essential in tennis. A test – TMS (tennis movement screen) was developed to elucidate and address injury trends. Test is valid, reproducible, reliable and requires minimal equipment which permits on the road assessment. Thoracic rotation squat is performed to assess the thoracic spine and when it's limited, impacts player performance and contributes to injury. They work with coaches to curtail injury. Many players do yoga, receive physical therapy and massage which are great for thoracic spine mobility and help bridge the gap to peak performance and success.
Kathy Martin: WTA Mental Health Team – Junior journey to the pro. Sr. Director Mental Health & Wellness, sports physiotherapist and mental health counselor for adolescents and young adult athletes. 20% of athletes aged 12-24 suffer from a mental health disorder. Teenagers experience rapid changes driven by hormones with the onset of puberty getting younger. Bones and muscles are growing rapidly, and they require more sleep. Their thinking begins to change and there's a sexual awakening. It's a 2–3-year transition from juniors to the pros. Coaches must care for their body and mind to facilitate a smooth, healthy transition. Coaches must keep developing utilizing technology to help players progress. Aim for consistency as losses accrue after turning pro. Focus on process not outcomes.  
John Laffnie de Jager: Tennis is about leadership. Played on tour for 16 years despite a physical disability. Goal of the WTC is the ongoing evolution of coaching; the global tennis coaching community must share knowledge and experiences. Leadership can be learned. It's about influencing people and maintaining that momentum. Success is a journey paved with hard work. Good leaders change lives; it's not about you. Collaborate with others to achieve your goals. Great leaders think the impossible. Don't let small mistakes sabotage your vision. Learn to lead when you learn to learn. Every day, coaches have the opportunity to change lives, and this is a huge responsibility. Leaders are brand ambassadors. Be an ambassador of tennis!
Vladka Renaud Ulhirova: Passion and quality – Engines of my tennis journey. Ranked #18 in doubles. In 2015 alongside hall of famer Jana Novotna, began co-coaching French Open champion Barbora Krejcikova. Success is reaching your maximum potential. Coaches are visionaries, possess patience and teach technique and biomechanics. Be disciplined, ready to sacrifice and nurture your mental health. Keep learning, have high standards and listen to advice while relying on yourself to problem solve. Trust and be open and communicative. Every player is unique so custom design your coaching. Play/coach with passion and for the love of the game – not just the money. If you live with passion and quality, you will succeed!
Vesa Ponkka: Holistic coaching approach and learning environment. International leader and coach. In 1999, established the Junior Tennis Champion Center (JTCC), a non-profit organization. Coaches, especially with young players, must build trust before teaching fundamentals. Great players are life-long learners. Instill this mentality into young players and allow them the freedom to make and learn from mistakes. Create a positive learning environment. When forced out of their comfort zone they learn the most. JTCC is developing a give-back mentality thru mandatory community service for students as well as the staff. Tennis teaches important life lessons and skills; it's a transformative sport. Its more important to produce 250 great coaches than twenty top 100 players!   
Carlos Goffi and Josh Goffi: The 50 when the ball is not in play. Father and son developed the Tournament Tough Methodology. 50 minutes of every hour – the time between points and during changeovers – is where the mental battle ensues. Managing these 50 minutes is the key to success and can be learned. A lot happens inside the fifty – weather, choking, cheating etc. Players must use this time to instill doubt in their opponent. While tennis requires you to be fit, it is five times more cerebral than physical. During those 50 minutes, college players, with the help of their coach, must manage adversity and develop strategies and tactics. Always keep tabs on your opponent's confidence. 50 minutes = mental fortitude. For more information, please visit www. tournamenttough. com.
Dr. Ann Quinn: Sports Sciences. Take a holistic approach to energize your athletes to master their minds. Believe to succeed. Teach your players to have self-belief; this is an ongoing process. Mental acuity, like groundstrokes, must be practiced daily. Coaches must plan purposeful practices. Neuronal connections are fortified when mental skills are reinforced. Clarity is power; it reduces stress and uncertainty. Failure follows without a defined goal. Tennis is 90% mental; think like a winner. Coaches must ascertain their player's thoughts; choose powerful, affirmative words when conversing so they will repeat them like a mantra. Consistency is the key to success and managing energy, not time, sustains high performance.   
Fernando Segal: 4 tennis methodologies. The key factors of assessment of your tennis player. Coaches must know how the brain functions during training to develop their player. Drills must encompass the brain/mind, feet, body/hands, and heart for they work synergistically. Coaches are champions of motivation. The brain is open to learning, change and adaptation and when you are motivated, this is more likely to occur. Don't be too generalized; the brain learns best with specificity. The brain adjusts in time and space; continual adaptation to the opponent, surface, conditions, and geographic location. Coaches must convey knowledge and empower their players. Brain learns best with imbalance; challenge the player with specific instruction. Coaches must be disciplined and systematic to create successful players.