Rublev ruins Rune's bid for second Masters 1000 crown winning 5-7, 6-2, 7-5 in Monte Carlo
Holger Rune was on the ropes in the semis; down a set against the red-hot redhead from Italy,  Jannik Sinner. The 19-year-old Dane with the partisan crowd firmly in Sinner's camp, used the negative energy to fuel his form and reach his second Masters 1000 final in five months. This time last year, he was ranked #79. Currently #9 with three titles, he reached a career high of #8 last month and would ascend to #6 with the Monte Carlo crown.
Andrey Rublev the fiery redhead from Russia stood in his way. The 25-year-old was still seeking his first title at this level having twice been a finalist including two years ago at this event. In 2021 he achieved a career high ranking of #5 and is currently ranked #6 with 12 tour titles in 19 finals.
Entering the final, they were level at a win apiece; Rublev saved match points in an epic five-setter this past January at the Australian Open while Rune won in straights last fall en route to his first Masters 1000 title at the Paris Indoors.
Rune, the 6th seed and playing in his sixth tour level final, gifted a double fault and held to 30 for 1-0 while Rublev donated two double faults and faced break point yet held to level with a forehand crosscourt volley winner.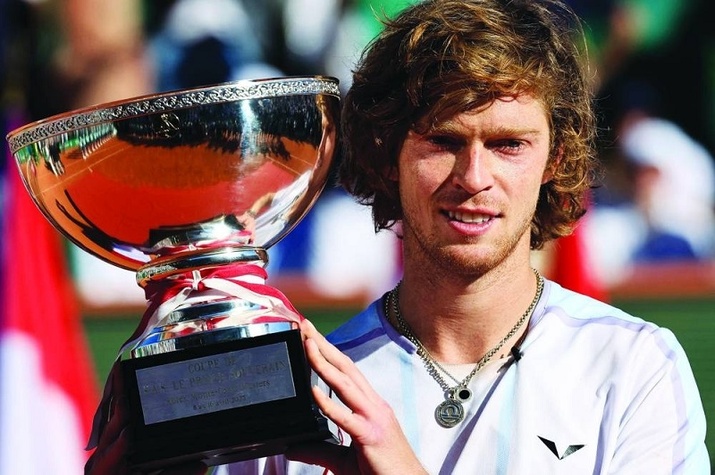 (AFP)
Rune missed 5/10 first serves, faced two deuce and double break point yet managed to hold for 2-1 with a fantastic inside-in forehand. Rublev seeded 5th, missed 5/6 first serves including a double fault but with a monster serve up the tee, held to 30 to level.
The Dane struck his first ace and held to love while Rublev faced triple break point and dumped serve when Rune crushed the forehand return. The teenager missed 5/10 first serves, faced two deuce and five break points, and relinquished the break when he overcooked a forehand.
Rublev, serving with new balls, opened the 8th with two consecutive forehand winners and held to love for 4-4. Rune opened the 9th with an inside-out forehand winner but donated another double fault and faced two deuce and two break points before holding for 5-4.
Rublev continued to dictate with the backhand, but it was the forehand crosscourt that earned him another love hold to level. Rune hit his second ace and though he missed 3/5 first serves, held to 15 for 6-5 while Rublev with a lapse in concentration, committed four unforced errors to concede the set 5-7.
Rune served first in the second and though he struck his third ace, faced deuce a break point, and dumped serve when a forehand went wide. Rublev, exemplary on defense, hit two aces the last on game point to consolidate the break at love for 2-0.
Rune continued to struggle on serve and though he faced two deuce and two break points, held for 1-2. Rublev missed 4/5 first serves, faced triple break point, and dumped serve with a mishit backhand and Rune gave back the break with three unforced errors.
The Russian held easily to 15 for 4-2 while Rune opened and closed the 7th with double faults and dumped serve. Rublev, playing with controlled aggression, hit two consecutive winners including an ace out wide and with an overcooked return, secured the set 6-2.
Rune served first in the decider and though he faced a deuce point, struck two consecutive forehand winners for 1-0. Rublev had a more arduous opening service game as he battled through four deuce points and dropped serve when Rune converted his lone break point with an incredible inside-in forehand.
Rune opened the third with his 5th double fault yet managed to hold to 15 for 3-0 and Rublev returned the favor, holding to 15 to get on the board. Rune clearly winded, began taking more time between points and as he continued to struggle on serve, donated his 6th double fault. He faced three deuce and two break points but with three consecutive winners including two aces, eked out the hold for 4-1.
Rublev with a must hold, opened with a double fault, and faced deuce and break point yet held when his opponent whiffed a forehand. Rune returned the favor and then some as he gifted two double faults and dumped serve when he butchered a backhand.
Rublev grabbed hold of the lifeline and ran; with an ace out wide and two consecutive backhand errors from Rune, consolidated the break for 4-4. The backhand drop shot that was so effective in the early stages of the match had now deserted the teen.
He regrouped admirably however, with his 6th ace and a love hold to lead 5-4. Rublev, serving to stay in the match, opened with an extraordinary lob and closed with a crosscourt backhand winner to hold at love for 5-5.
The pressure and excitement grew as the match drew to a close. Rune faced 0-30 and with his frustration mounting, received a warning for ball abuse. He faced double break point following a blistering backhand down the line from Rublev and dumped serve with his 9th double fault!
Rublev stepped to line to serve for his first Masters 1000 title. He earned triple match point and with his fifth ace, secured the biggest title of his burgeoning career. With clay on his back and tears in his eyes, he thanked the enthusiastic crowd for their unwavering support despite his country of origin.
Rublev remained steadfast when on the precipice of defeat. It was a gutsy performance that included just 4 double faults usually his Achilles heel. He won 74% of first and 52% of second serve points and saved 4/8 break points while converting 6/19. He won an astonishing 62% of second serve return points compared to just 48% for Rune. With five more winners and 15 more points, Andrey Rublev rewrote his story and became a Masters 1000 champion.