On another beautiful day in Paris, in the second round of the French Open, on Court Philippe-Chatrier, defending champion Iga Swiatek of Poland defeated Claire Liu of the United States, 6-4, 6-0, in one hour and 29 minutes.
Swiatek, who turned twenty-two yesterday, struck 24 winners and won six of eight break points.
Swiatek is reminiscent of Rafa Nadal with her game style, and the red clay courts suit her heavy topspin.
Clare Liu, who is twenty-three, won junior Wimbledon in 2017 and was the No. 1 junior in the world. She is currently ranked No. 102 on the WTA Tour.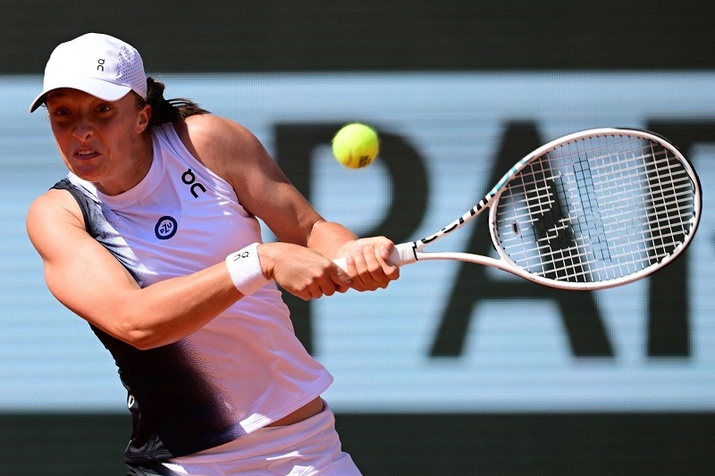 AFP–JIJI
Swiatek is currently ranked world No. 1. She owns six career titles on clay, winning Roland-Garros, Rome, and Stuttgart each two times.
In her post-match press conference, Swiatek said: "So I was able to play a little bit better in the second set, and I kind of used first set to get more information and get into the rhythm, but Claire played pretty well. I feel like it was more intense.
"But I'm happy that I'm into the third round, and I have a chance to play more matches here."
There has been some controversy in the tournament that five out of five night sessions on Chatrier have been men's matches, but Swiatek said that she had requested to play the day session.
"Well, I don't think it's a surprise that–I mean, there are players who like the hype and the energy, and maybe playing during the night because also of the conditions. But for me it's more comfortable to just have the normal day/night rhythm, and I kind of lost it after Madrid.
"So, in terms of regeneration, recovery, and just kind of being in a good rhythm and also keeping better mindset through the end of the tournament, I think it's more healthy for me to play day sessions. But I'll be also ready for night sessions. I already played many of them this year or last year.
"Honestly, if there is a pretty big request, I always kind of adjust. Then maybe if I play many night sessions during a tournament and I kind of straightforwardly said that, please, if you could schedule me a little bit earlier, that would be nice. I may get a little bit frustrated as I did in Madrid. You could see in my speech. Maybe I should have said that. I also understand that there is sometimes a need for us to play late.
"But, on the other hand, in Rome I already played my third or fourth match after midnight. It was an intense time anyway, but I don't know. Maybe if I would have kind of normal day/night rhythm, I would be able to recover more, and I wouldn't get injured.
"There are a lot of factors that we have to take under consideration. I just think it's more healthy to play during the day, as we're used to as we were kind of raised to play."