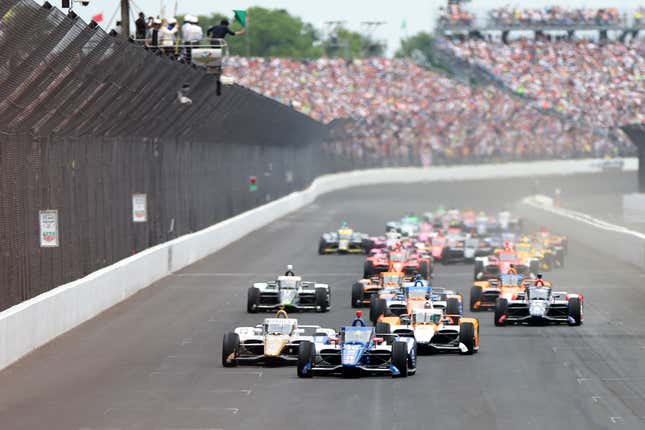 First off, and most importantly, everyone came out of this crash at the Indy 500 okay. But check out this dash cam footage of what it was like inside driver Kyle Kirkwood's car after he was clipped by Felix Rosenqvist, who skimmed into the wall and spun out into traffic. Even the broadcasting crew held their breath while safety workers rushed to free Kirkwood from his inverted car. Kirkwood's team could be hear on comms telling the driver not to remove his safely belts until rescue workers got to him.
Why Wendell Pierce loves Formula 1
Here's what it looked like from the overhead camera:
Here's what it looked like inside Kirkwood's car:
Notice how cooly Kirkwood flips up his visor while his car is sliding down the track upside down.
And here's a shot of Kirkwood's tire flying off and heading into the vacinity of the grandstand. No word on where it landed, but it seems like everyone came out of this one okay.
The race was red-flagged with 14 laps to go. with Ryan Hunter-Reay in the lead.
And just seconds after the re-start, fan favorite Pato O'Ward went careening into the wall, bringing on a second red flag with 6 laps to go. Moments later, he was read-ended by Agustín Canapino, despite sitting there completely stopped for several seconds. O'Ward walked away from the crash and seemed okay.
Absolute chaos in Indy.
[Update:] We know where Kirkwood's tire landed:
And we'd be remiss if we didn't mention that NBC Sports is once again insisting on forcing Mike Tirico upon us. 
This is a developing story. We'll continue to update this story as more information is available. For full coverage of the Indy 500, check out our sister site, Jalopnik, and make sure to subscribe to the Deadspin newsletter to stay up-to-date on all the latest in the world of sports.