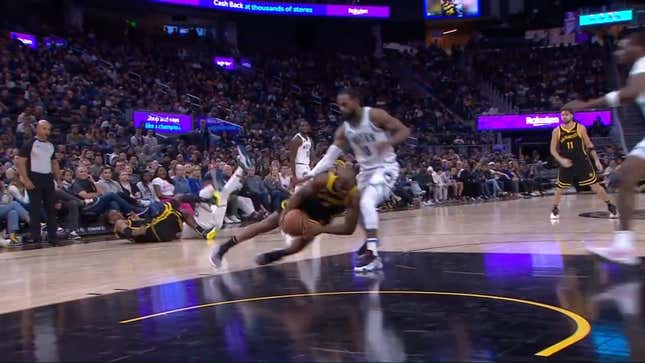 The more things change, the more they tend to stay the same. This sentence describes Chris Paul to a T. He's on another new team, but it's the same ol' dirty CP3. On the undercard of the MMA main event that broke out during Golden State's In-Season Tournament game against Minnesota Tuesday night, Paul was featured attempting to take Mike Conley's knees out. Not only did Paul attempt this unnecessary move, but he succeeded in dropping Conley to the floor over a loose ball.
Hey Shannon Sharpe, the Memphis Grizzlies are the NBA's Kings of the Ring
Call him the Nature Boy Chris Paul because he's the dirtiest player in the game. "By any means necessary" definitely seems like Paul's motto whenever he takes the court. It's funny how folks will still defend this dude when he's been a dirty player on a national level since his days at Wake Forest. And yes, that continues to be brought up because he's still up to his old ways.
It could be a small guard thing. Some have called John Stockton a dirty player, but he played long before the social media and smartphone era. Isiah Thomas wasn't exactly a favorite amongst peers around the association in the 1980s. Smaller players have to work harder on the court, but being dirty isn't called for.
Now that Paul is on a team with an even bigger disrupter in Green, Paul is free to act out because the spotlight isn't shining brightest on him anymore. For the majority of his pro and college career, he's been the main guy on every team. Phoenix turned things around once CP3 arrived, although Devin Booker had been there for years.
Chris Paul: Nut Puncher
No one is denying Paul as one of the greatest to ever play his position, which makes his antics so egregious. Maybe at this point, he needs an edge over younger players to get an advantage, but his latest victim was a player who's been around nearly as long as Paul.
With Green suspended five games for choking out Rudy Gobert, Paul's workload should get a little heavier over the next week. But this probably won't be the last time he's caught seeking an unnecessary advantage over an opponent this season. Paul just cannot help himself, apparently. CP3 came in a dirty player, and he'll leave the NBA just the same.