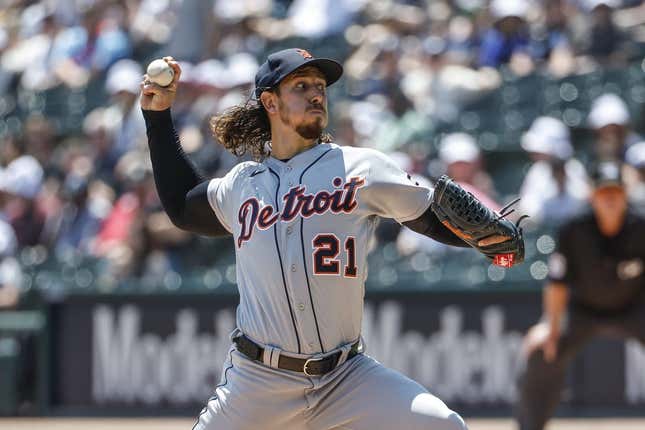 Yoan Moncada scored on a wild pitch with two out and the bases loaded in the 10th inning as the host Chicago White Sox pulled out a 2-1 win over the Detroit Tigers on Saturday afternoon
Bass' ERA stinks, but not compared to who he is off the mound | Worst of the Week Countdown
All three of the game's runs came home on wild pitches. Andrew Benintendi had two hits and scored a run for Chicago. Reynaldo Lopez (1-4) pitched a scoreless 10th to collect the victory.
Zach McKinstry tripled and scored the lone run for the Tigers, who were blanked in the series opener on Friday
Detroit was unable to advance the ghost runner in the top of the 10th. Chicago's ghost runner, Moncada, moved to third on Romy Gonzalez's sacrifice.
After a groundout and intentional walk, Jose Cisnero (2-1) hit Jake Burger with a pitch to load the bases. Cisnero's next pitch to Tim Anderson then struck the home plate umpire and bounced away as Moncada scored.
Neither team had a baserunner advance past first until the fourth inning. Akil Baddoo drew a one-out walk and went to second on a wild pitch in the top of the inning. After a groundout, Eric Haase also walked but Chicago starter Dylan Cease then struck out Nick Maton.
The White Sox scored a run in the bottom of the inning. Benintendi led off with a single and stole second. With two down, Detroit starter Michael Lorenzen threw two wild pitches with Moncada batting, allowing Benintendi to score
Detroit tied it in the sixth when McKinstry led off with a triple and scored on Cease's wild pitch.
Jake Marisnick had a one-out single for the Tigers in the eighth and moved up on a groundout. Gregory Santos then struck out Javier Baez on three pitches
Andrew Vaughn led off the bottom of the eighth with a single against Jason Foley. Pinch-runner Romy Gonzalez stole second and Gavin Sheets was intentionally walked with one out. Burger then struck out and Anderson lined out to end that threat.
Benintendi led off the ninth against Alex Lange with a single. Lange then set down the next three batters, including a pair of strikeouts, to send the game into extra innings.
–Field Level Media